Non Reaction Steering Helm with tilt Mechanism - LM-TH1N - Multiflex
Brand: Multiflex
Product Code: LM-TH1N
Availability: Out Of Stock
Non Reaction Steering Helm with tilt Mechanism - LM-TH1N - Multiflex

Features:
> Tilt Range from 0 to 48 degrees with five locking positions.
> Made of high-quality corrosion-resistant material
> Light Weight and Robust Design
> Built-in lock valve and over-pressure valve.
> Stainless steel AISI 316L Shaft.
> Applicable for Max. Boat Length: 9 meterS for Out Board and
> 10.5 for Inboard
> Use for single-engine application only
> Fits SC-16 series MULTIFLEX Steering Cable
Construction Details:
> Non-Reaction Tilt Mechanism
> Helm Cover: High-Pressure Die-Cast Aluminum Alloy
> Planetary Gear Set: High Pressure Die Cast Zinc Alloy
> Steering Wheel Turns 4 Approx.

> Wheel Diameter: 16 inches (400 mm)
> Shaft length: 80mm
> Powder Coated options for increased corrosion resistance
> Low Back Lash
> Standard 3/4" tapered shaft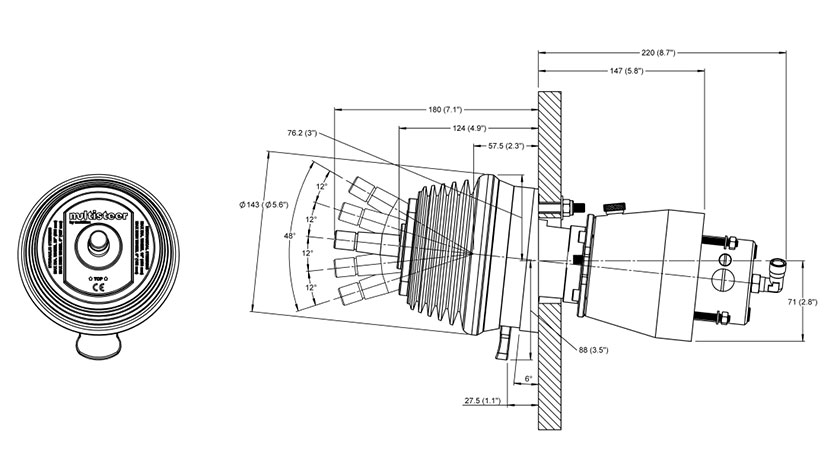 N.B: The steering wheel is not included in Package mechanical steering helm with tilt mechanism system and can be purchased separately.
Part Number: LM-TH1N
Tags: Steering Helm, tilt mechanism,