Mid Mount Hydraulic Helm Mechanism MHP Pump 23 cc / 1.4 ci - LM-MHP-23 - Multiflex
Brand: Multiflex
Product Code: LM-MHP-23
Availability: Out Of Stock
Mid Mount Hydraulic Helm Mechanism MHP Pump 23 cc / 1.4 ci - LM-MHP-23 - Multiflex:
Multisteer offers Mid Mount
Categories: Hydraulic Steering Helm, Hydraulic Steering Products, Hydraulic Steering System.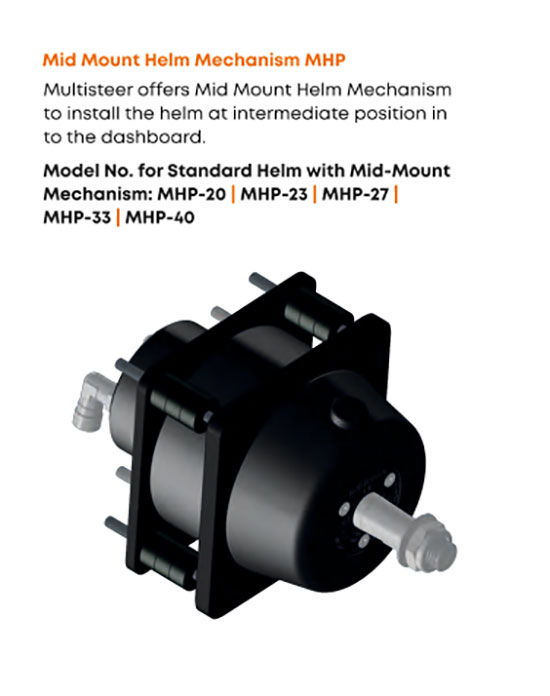 Salient Features:
> Robust design

› Ball bearing piston race

› Built-in lock valve to safeguard feedback from the rudder

› Integral relief valve to protect the steering system from excess pressure

› 3/4" standard tapered shaft

› Easily accessible lock valve seals & shaft seal for replacement

› All Helms include a pair of 90° adjustable chrome-plated brass elbow fittings to connect to 5/16" hose tube

› Both the ports are tightly locked with dummy plugs to avoid oil leakage

› The dummy port is locked with a dummy plug which can be used to connect to the dual station kit when required

› Mounting hardware & template are provided with helms

› Helm mounting is designed in such a way that it is easily interchangeable with other brands

Features:
- Built-in lock valve
- Pressure relief feature
- 3/4" tapered shaft to suit all marine steering wheels
- Corrosion proof
- Includes ORB fittings
Function:
A helm pump is an Axial Piston Manual pump.
The function of the helm pump is to push oil in the hydraulic circuit when the steering wheel mounted on the pump shaft is rotated.
The helm pump is usually fitted with a lock valve to prevent the rudder feedback to the steering wheel.
Also for safety, the pump is fitted with a relief valve.
Technical Specifications:
> Volume: 23CC// 1.40 CI
> Elbow Fittings: 9/16"
> Relief Pressure in Bar: 70
> Recommended Steering Wheel Diameter: 350mm
> Weight in Kg: 4.00
Part No: LM-MHP-23