6.5" 230 WATT Coaxial Classic Marine Speaker, SG-C65W - 010-01427-01 - Fusion
6.5" 230 WATT Coaxial Classic Marine Speaker, SG-C65W - 010-01427-01:
Designed by musicians and engineered by boaties
Pushing the boundaries of what is possible on the water, FUSION's Signature Series marine speakers are designed to provide unparalleled performance even when exposed to the harshest marine conditions.
Combining 'CURV' Cone composite technology with a Silk Dome tweeter and fully sealed crossover components, the Classic White Signature 6.5" speaker system is an elegant solution for premium on-water listening.
Delivering a harmonious 230-Watt symphony, these 6.5" speakers are truly FUSION's Signature.
Features:
CURV Cone Technology - Incorporates CURV woven fiber composite which is heat pressed to form a lighter and stronger cone that delivers greater sound definition and higher output while also providing increased protection from the marine conditions.
Perforated Metal Grille – This discreet, yet refined design is suitable for both indoor and outdoor installation. The elegant Classic White finish is designed to perfectly blend with the aesthetics of your vessel.
Fully Sealed Crossover Components – Provides full protection from the harsh marine environment, whilst delivering an improved frequency response at the crossover point for a detailed audio spectrum and new level of acoustic performance.
Silk Dome Tweeter - Creates a smooth upper frequency response with increased efficiency, producing crisp sound for unrivalled enjoyment.
The Power Of Music
Designed by musicians and engineered by boaties, the Signature Series is a fusion of these two fundamentals. The result is the formation of a truly immersive musical experience. By incorporating the finest materials with True-Marine™ engineering practices, we have shaped a series so acoustically stunning and at the same time so robust, that it feels right at home on the water.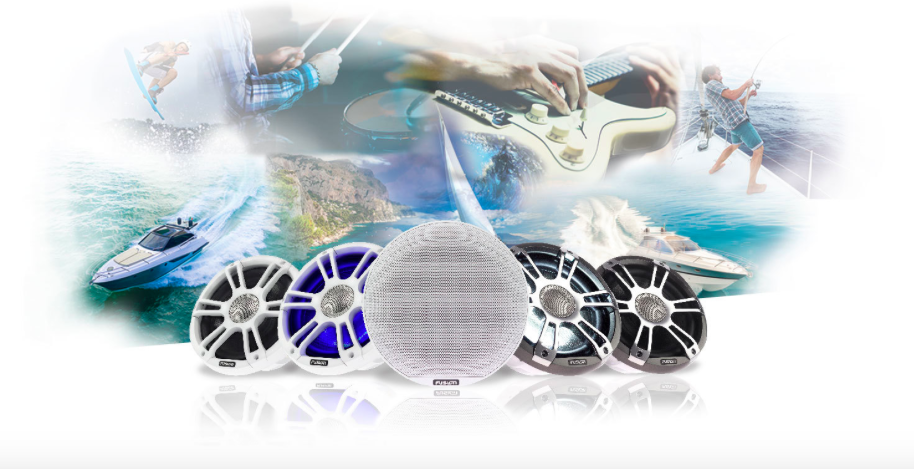 CURV Cone Technology
CURV Cone Technology is an innovative engineering process that has created a superior-performance composite cone that delivers premium audio reproduction. CURV is a tough and abrasion-resistant material that is 30% lighter than mica-filled polypropylene at equal stiffness, matched with superior durability and high resistance to moisture, UV and temperatures. CURV is the only option for the FUSION Signature Series marine speakers.
A Harmony Of High Quality Engineering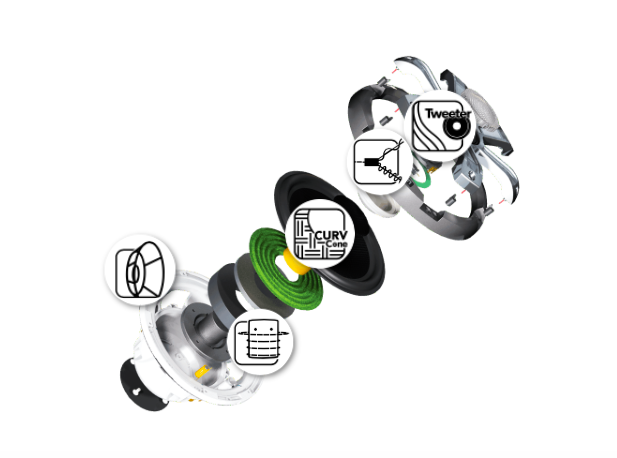 The True-Marine Standard
As a True-Marine product, the Signature Series is designed and engineered for the harsh marine environment. Once a product has been subject to rigorous environmental testing and passed our stringent True-Marine approval process, it is awarded the accreditation and recognized with an industry-leading 3 year consumer warranty.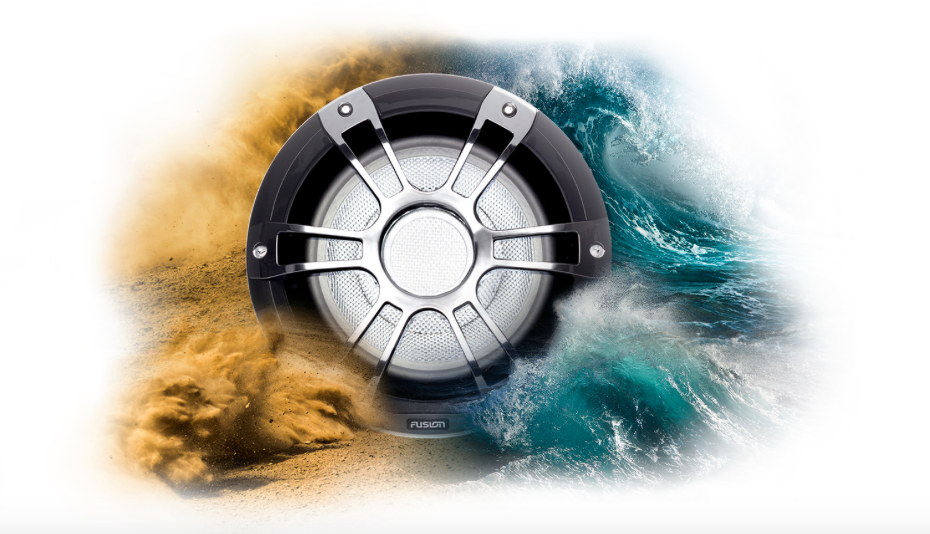 IP65 Water Resistance Rating
Every Signature Series marine speaker undergoes extensive environmental testing for ingress protection, ensuring they are prepared for the marine environment. The Signature Series has achieved an industry standard rating of IP65 - indicates the product's protection against dust and water ingress. You can be confident that your Signature Series marine speakers are designed to withstand the harsh marine environment season after season.
Installation Manual Multi-lang (3.77 MB PDF)Download
Mounting Dimensions
Mounting Depth
79mm(3.11 in.)
Mounting Diameter
136mm (5.35 in.)
Product Specifications
Product Code
SG-F65W
Cone Material
CURV
Configuration
Coaxial
EFFICIENCY (1W/1M)
90db
Frequency Response
70Hz – 22kHz
IMPEDANCE
4 Ohms
Peak Power (Watts)
230
RMS Power rating (Watts)
75
Tweeter Type
Silk Dome
Voice Coil Diameter
1.3"
Tags: speakers, audio system, waterproof, marine entertainment,